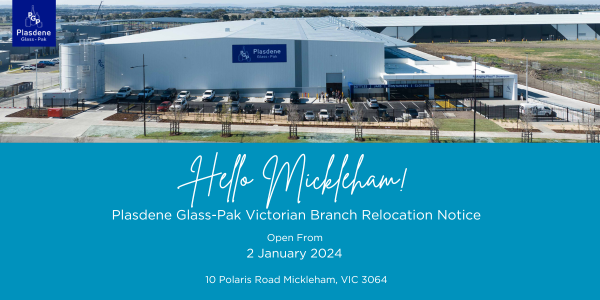 Plasdene Glass-Pak – Our Victorian Branch Is on the Move!
We've outgrown our space, and to ensure we continue to provide the highest level of service, we are delighted to advise that our Plasdene Glass-Pak Victorian Branch will be relocating to new, purpose-built premises at Mickleham, Victoria.
Both our warehouse and Packaging Plaza will be open for trade at our new site from
Tuesday 2 January 2024.
Our new location:
Plasdene Glass-Pak
10 Polaris Road
Mickleham, Victoria 3064
We are located in the new Merrifield Business Park, just off the Hume Freeway (via Donnybrook Road exit). Find us directly across from Dulux.
We are currently undertaking a staged stock relocation process to ensure disruption to normal trading and client service levels will be minimal. However, please be aware that stock at our existing Campbellfield site will be progressively depleted as we transfer to the new premises in the coming weeks, which could present some minor delays in the short term. To allow for the physical move of office equipment, our last day of trade at our Campbellfield site will be Thursday 21 December 2023, reopening at 10 Polaris Road, Mickleham from Tuesday 2 January 2024. Thanks for your patience during this moving period.